I was raised in a farming community in Cochranville, Pennsylvania, surrounded by Amish and Old Order Mennonites. My first church experience was going in a horse and buggy to an Old Order Mennonite church. My life was changed when the "Black Bumper Mennonites" took me to Vacation Bible School for two weeks when I was six years old. It was the first time I really heard the gospel at a level I could understand, and seeds were planted that changed my life.
Elementary school did not have kindergarten and I started first grade at age five, the youngest student in the school. At age eleven I met my future wife, Bonnie, and fell in love forever.
I became the youngest student to graduate from my high school and on the day I turned 17, I joined the military with the patriotic spirit instilled in me from the World War 2 generation. After serving in Vietnam, I returned home to my beautiful bride, Bonnie.
At the age of 23, in an effort to provide a better future for my wife and two children, I hitchhiked across the United States to find a job on the Alaskan Pipeline. The pipeline turned out to be a pipe-dream and I found myself homeless and sleeping in a cemetery in San Bernardino and giving plasma twice a week for a total of $12.00. I had determined not to go back home until I could find a better life for my family.
It was during this time that I met a young man who wanted to take me to a church called Calvary Chapel Riverside. I told him I could not go because I was not clean in body or clothes for church. He told me, "God does not care what you are like on the outside, for He cares what is on the inside, your heart." I had never heard this before and it so impressed me I went with him that night. As soon as I arrived I realized I was in a "hippy church." A preacher had warned me about those before I left Pennsylvania. But someone else was in that church, and He was Jesus. That night I heard the invitation to ask Jesus to forgive me of my sins and to come live inside me. After church, I returned to where I was staying and prayed all night that Jesus would come into my heart. I was afraid He might not like it and leave. He did not leave me or forsake me.
After that, little miracles started to happen to me and I called Bonnie and told her to come out because, "God was out here." She told me she thought God was everywhere and I said no, he lives in Riverside, California, because I have met Him and seen Him work.
God provided, and Bonnie and the two boys returned to me. On her first night at church, Bonnie committed her life to Christ. The rest is history, as they say. We started working in Sunday school the first week we went to church together and have never left the ministry.
Bonnie and I have been blessed beyond measure that God has chosen us as the Pastor and Director of the Sunday school at Harvest Christian Fellowship.
Born in: 1950
Birthplace: Lancaster, Pennsylvania
Pastor since: December 2013
Previous work: Farming
Favorite scripture: Matthew 6:33
Married to: Bonnie
Married since: 1969
Children: Vince, Mark, Bunky
Grandchildren: Vinnie, Jon, Jocelyn, Jordan, Mason, Holiday, Kai, and Micah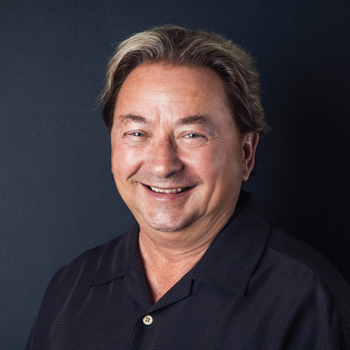 Role: Associate Pastor
Locations: Riverside
If you'd like to get in touch, please click the button below.