My home life as a child in a really small town in Pennsylvania was pretty wild. My mother and father split up when I was 14 and my mom just couldn't control me so I pretty much did as I wanted to. This led to me running away from home frequently. When I was 16 years old, after returning from one of my adventures, I returned to an empty house with no furniture or family. Our neighbor informed me that my folks had gotten back together after being separated for two years and moved to California. They knew I would come back sooner or later so they had left me a plane ticket to Southern California, where I ended up in Long Beach. Drugs and alcohol led me to moving out of my parents' house at the age of 16 and into living with a bunch of bikers and hippies where life was just one continuous blur of immoral living. In 1971, when I was 19, I was tricked into going to church by some friends who told me we were going to a free concert in Costa Mesa, where for the first time I heard a clear, concise, and compelling proclamation of the gospel. Lonnie Frisbee was preaching at Calvary Chapel Costa Mesa where I gave my heart to Jesus. I met a little girl, whom I affectionately call Shorty, and after just a few weeks I asked her to be my bride. Four months later we were married. Since that night on March 27, 1971, our lives have been a series of miracles, triumphs as well as tragedies as we walked with the Lord and enjoy His provision and protection. Jesus changes everything! We started attending Harvest in 1991, and had the privilege of serving in many different ministries before coming on staff in 2010.
Born in: 1952
Birthplace: Philadelphia, PA
Pastor since: 2016
Previous work: Finish Carpentry business owner, Sales and Sales Management
Favorite verse: Ephesians 2:10
Married to: Christine (aka Shorty)
Married since: 1971
Children: Krysten, Layla, and Noah
Grandchildren: KJ, Justus, Meta, Braden, Ezra, and Julia.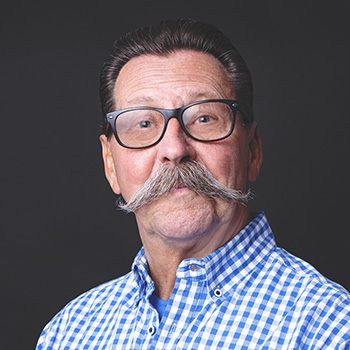 Role: Ministry Development
Locations: Riverside
If you'd like to get in touch, please fill out the form below.
Stay Connected to the Harvest Community
Get regular email updates, event information, and Harvest stories.